I HAVE BEEN APPROVED BY THE STATE OF FLORIDA TO PRODUCE A WIND MITIGATION REPORT FOR YOUR HOME:
SAVE UP TO 40% ON PROPERTY INSURANCE


What is a Wind Mitigation Inspection ? The state of Florida REQUIRES Insurance Companies to offer REDUCED RATES on Wind Insurance for certain Hurricane resistant features. I will inspect the features present on your home and produce a WIND MITIGATION inspection report for you in order to obtain your WIND MITIGATION CREDITS from your insurance agent. Wind Mitigation Certification To qualify for a Wind Mitigation Discount and/or rebate on your existing wind insurance policy, insurance companies require a licensed building professional certification (Wind Mitigation Inspection)of the structure. The $120 charge will cover all related aspects of the wind mitigation inspection and wind mitigation certification. I can also make suggestions on ways you might even increase your discount. Questions and Answers 1) How do I know if I will qualify for a Windstorm Mitigation discount? Just schedule a WIND MITIGATION INSPECTION by calling me at 407-892-9661. I will only check those items and construction features specifically listed on the wind mitigation insurance inspection form (nothing else is inspected or reported to the insurance company). The entire inspection will only take less than 30 minutes.
The state of Florida REQUIRES Insurance Companies to offer REDUCED RATES for certain Hurricane resistant features.
Contact me.... for your one time inspection and save money now! You will receive a refund check from your insuance company if you pay your premium in full for the entire year. If you make your insurance payment through your mortgage payment, then your mortgage payment will be reduced accordingly each month. You will then receive your discount every time you renew your policy each year. There are inspection fee discounts for multiple property owners and scheduling with a neighbor...so tell a friend!

The state legislation adopted provisions for a new statewide building code (the 2001 Florida Building Code), which became effective on March 1, 2002. The same legislation included a requirement for insurance companies to provide property insurance discounts for homes that have construction features that reduce the losses in windstorms. Each insurance company was required to submit new rates by February 28, 2003 and include discounts for wind damage reduction (mitigation) construction features. The discounts are justified because stronger, more wind-resistive houses have lower windstorm losses, and lower windstorm losses mean reduced costs to insurance companies. The insurance discounts provide some financial incentives for homeowners to strengthen their existing homes and for new construction to be built to the strongest options in the Florida Building Code. These new insurance rate discounts in Florida began to take place in 2003. They apply to both existing construction (houses built prior to 2002) and new construction built to the new statewide Florida Building Code (FBC). To qualify for these discounts, most insurance companies require a certification of the key construction features.
Windstorm construction features protect your home from catastrophic hurricane damage by strengthening your homes ability to withstand the uplift, shear and lateral forces of the wind associated with a hurricane to the exterior shell of your home. The features enhance the vulnerable components of your home's protective shell or envelope by fortifying your roof, exterior walls, windows and doors so they will not breach or fail in high winds. If this protective shell or envelope is breached, not only can wind-driven rain and debris enter your home causing considerable damage to its interior, but the high winds can enter your home and exert pressure on your walls and roof leading to catastrophic damage to your property.

What qualifies for an Insurance Discount : Existing homes built prior to 2002 that have one or more of these wind resistive construction features will qualify for significant credits. A windstorm mitigation inspection will certify your homes existing construction features. I will provide you with a wind mitigation certification inspection report.

1. Roof coverings, such as shingles that meet the FBC Requirements.

2. Roof decks that have been installed with large nails and close spacing.

3. Hurricane clips/straps that hold the roof structure to the walls.

4. Protection of Openings such as windows and glass doors with impact resistant glazing or other protection systems.

5. Secondary Water Resistance that prevents the roof from leaking if the roof covering is blown off in a windstorm.

6. Wall construction type such as concrete block or wood frame exterior walls

7. Gable end bracing.

8. Roof shape.



WHAT IS IT?

A Wind Mitigation inspection is done to ensure the quality of your home to your Insurance carrier and to qualify you for an insurance policy premium discount.

WHY HAVE IT DONE?

Florida Statute 626.0629 requires Insurance companies to offer Florida homeowners "discounts, credits, or other rate differentials..." for construction techniques that reduce damage and loss in windstorms. This entitles you to certain insurance premium reductions. If you have a Windstorm insurance policy and HAVE NOT had an inspection done, I can SAVE you money on your current policy!


WHAT IF I PAID MY PREMIUM FOR THE YEAR?

Even if you paid your premium for the year, you are entitled to a premium reduction retroactive from the date your wind mitigation form is approved by your insurance company.

HOW MUCH DOES IT COST?

For a complete wind mitigation report I charge $120 send a State Certified General Contractor to your home for just $15

HOW MUCH WILL I SAVE?

I have seen customers save as much as a couple hundred dollars a year. Most people will recoupe their Inspection costs the first year and continue to receive yearly credit. To further verify for yourself how very real this opportunity is, you may contact "Creighton" for whom I did a report for that received over $200 in yearly credit at: 407-498-0411.
Consult Florida Statute 627.0629 Residential property insurance for more information.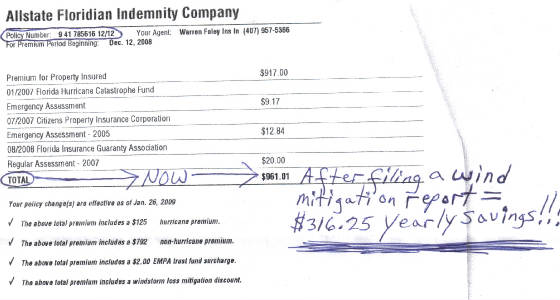 ______________________________________________________________